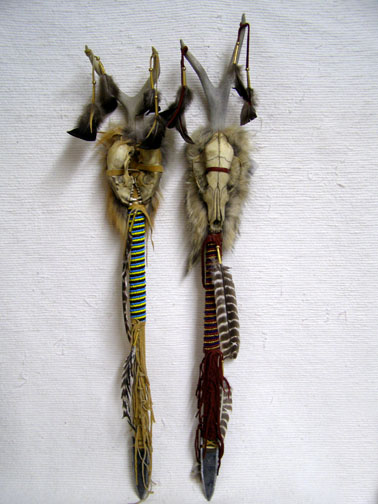 The trail marker is used by a clan or family to mark a trail. It indicates the direction to a ceremony, meeting or the home of a clan. The colors on the trail marker are the clan colors. Deer antlers represent family and gentleness. A medicine wheel is placed between the horns to protect the family from harm and misfortune. Coyote skulls represent wisdom and trickery, the coyote is known for the clever tricks he plays on others. Feathers represent a connection with prayer and protection. They hold and carry all your dreams and prayers and protect you and your family. A spearhead at the bottom of a trail marker is used for securing the marker into the ground. A trail marker without the spearhead denotes a clan living in a mountainous region; in this case the marker is hung from a tree or placed by a boulder. Skulls, trim, leather and beads will vary. Certificate of Authenticity Included.
Two types of Trail Markers are available. One Skull and Two Skulls. See Images below for additional views.

Features:
Dimensions: 36″-40″ tall
One Skull Trail Marker
Price: $134.95
Price includes shipping!

*********

Two Skull Trail Marker
Price: $134.95
Price includes shipping!
One Skull Trail Marker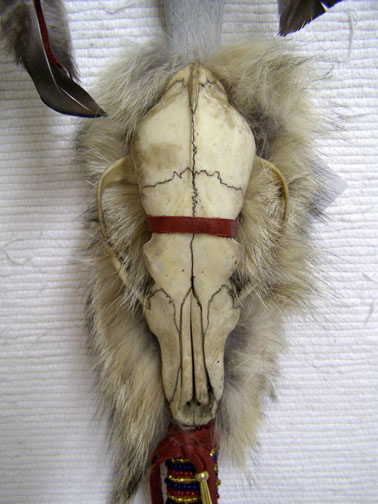 Two Skull Trail Marker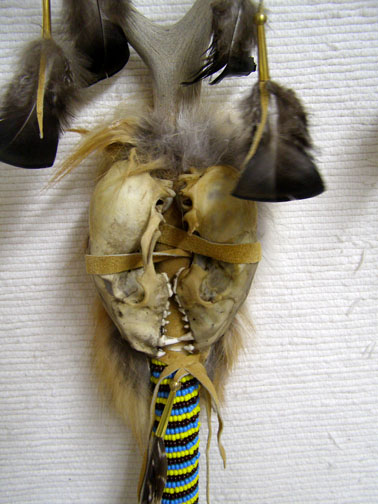 The Native Indian Artists use only genuine feathers, furs, bones, beads, leather, wood, stone, etc. in the making of each work of art. There is nothing artificial used unless it is required by law. No parts of animals such as bones, feathers, etc. are from any animals considered endangered. The feathers used are from Wild Turkeys.
The colors of feathers, fur, leather, beads and patterns can vary. All of our items are individually made by hand and are uniquely one of a kind. Therefore what you see on these pages is merely a representation of the product you will receive.