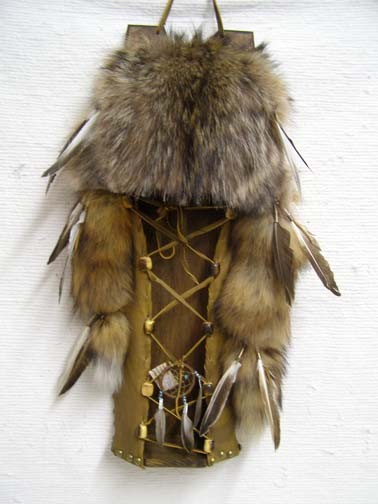 The first cradleboard is often made after the child is born. The father is very careful in the construction of the cradleboard because of the belief that a mistake in the construction could cause the child to be born impaired. An infant is the most precious of all gifts.
This particular cradleboard is a style that would be used in the winter. The fur around the head is designed to keep the baby warm. Leather color, fur, feathers and decoration will vary.
See images below for additional views.

Price: $334.95
Price includes shipping!
Additional Views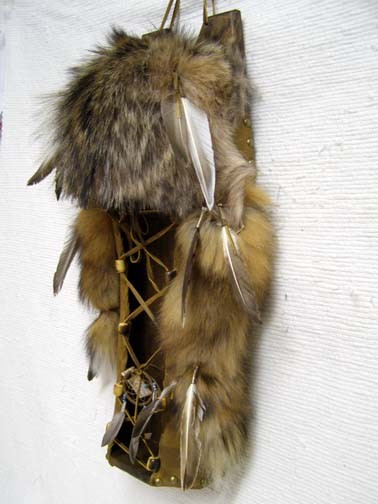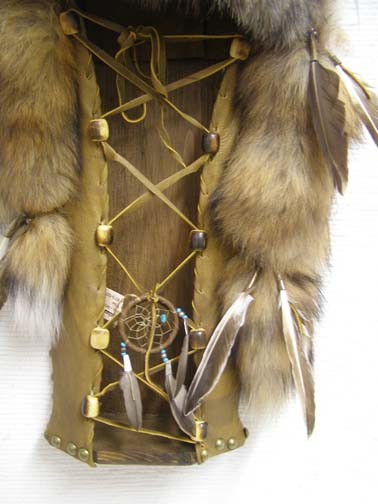 The Native Indian Artists use only genuine feathers, furs, bones, beads, leather, wood, stone, etc. in the making of each work of art. There is nothing artificial used unless it is required by law. No parts of animals such as bones, feathers, etc. are from any animals considered endangered. The feathers used are from Wild Turkeys.
The colors of feathers, fur, leather, beads and patterns can vary. All of our items are individually made by hand and are uniquely one of a kind. Therefore what you see on these pages is merely a representation of the product you will receive.