Various Native American tribes, in addition to the Navajo, make distinctively fascinating pottery known as horsehair pottery.  Horsehair pottery is actually an ancient process, and results in beautiful as well as cherished items of art.  It's said that horsehair pottery was initially stumbled on by a pueblo artisan whose lengthy tresses blew up against new pottery she was extracting of a very hot kiln.  The hair stuck and quickly carbonized.  The outcome was so fascinating that she copied it using hairs from a horse's tail.
A number of the finest quality, traditional, Native American made craft and decor originates from tribal artisans in the Southwest.  The Navajo Nation is actually the largest reservation within the United States, spread over over 26,000 square miles in northeast Arizona, southeast Utah and northwest New Mexico.  The Navajos rely on the revenue that they obtain through marketing their hand crafted pottery, jewelry, rugs, crafts and artifacts.  Navajo horsehair pottery has become extremely popular with southwestern art enthusiasts because of the extraordinary variations produced by hair taken from the mane or tail of a horse and added onto the pottery's surface while in the firing process.
Frequently utilized to honor the actual delivery of a foal, as well as the existence of an honored horse, this unique Indian pottery is created much as the name signifies, although it is a somewhat complex as well as at times a dangerous method.   The process for making horsehair pottery is an ancient process, that has been updated for modern kilns, ceramics and pottery.  The items are fired at low temperature (not to surpass 1700 degrees Fahrenheit) and the kiln is shut off and allowed to cool to about 1050 degrees Fahrenheit.  The pieces are taken from the kiln one at a time and strings of horsehair are dropped about the very hot piece.  The horsehair burns off and leaves the distinctive lines.  The smoke from the combusting horsehair additionally results in unique shading on the glaze.  Because of the individual piece at a time method as well as the fact that the horsehair is positioned on each piece manually, no two items will actually be exactly the same.  Feathers and sawdust are also occasionally utilized in this process.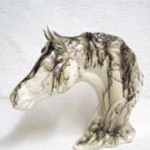 You can click here to  see a variety of beautiful Native American Horsehair Pottery and Horsehair Sculptures created by the Master Navajo Artist, Tom Vail. He and his talented family live in New Mexico.  His pottery is much sought after and every piece comes with a certificate of authenticity that guarantees their Native American origin.  Many of the pieces shown here on our website are example pieces of Tom's work, and since each piece is carefully handmade and because of the unique character of horse hair pottery, your piece of Navajo pottery will be uniquely different from the ones pictured here.