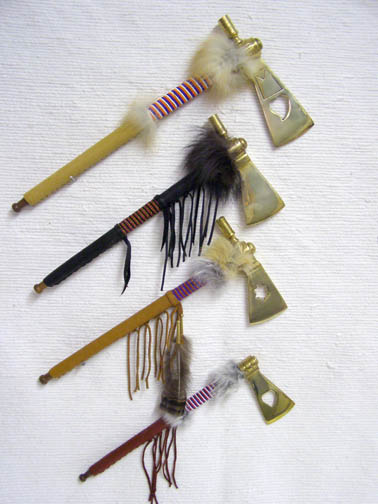 These beautiful buckskin-wrapped brass hatchets are trimmed by hand with beads and fur. The Large and Medium have working pipes (Smokerhawks); the Small is only a hatchet. The heart cutout, or weeping heart, was a trade item. This tomahawk would have been present during talks of war. If the talks went well, the pipe of the tomahawk would be smoked and passed as a symbol of peace then taken out and buried–the weapon would not be used. (This is where we got the phrase "Bury the hatchet.") Leather, beads, and fur color will vary. Certificate of Authenticity included.

Features:
Dimensions: 14″- 18″ length




Large Hatchet with Pipe/Cutout-18″
Price: $99.95
Price includes shipping!

***

Medium Hatchet with Pipe-16″
Price: $86.95
Price includes shipping!

Medium Hatchet with Pipe/Cutout-16″
Price: $86.95
Price includes shipping!

***
Small Hatchet with Cutout-14″
Price: $64.95


Price includes shipping!
The Native Indian Artists use only genuine feathers, furs, bones, beads, leather, wood, stone, etc. in the making of each work of art. There is nothing artificial used unless it is required by law. No parts of animals such as bones, feathers, etc. are from any animals considered endangered. The feathers used are from Wild Turkeys.
The colors of feathers, fur, leather, beads and patterns can vary. All of our items are individually made by hand and are uniquely one of a kind. Therefore what you see on these pages is merely a representation of the product you will receive.