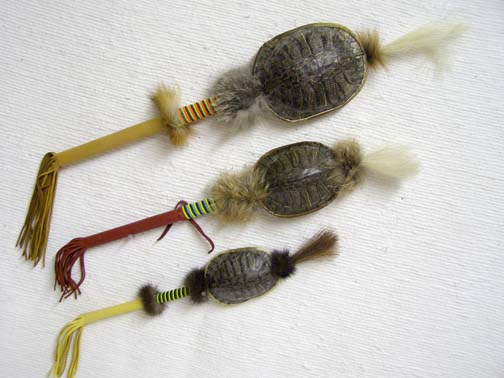 These turtle shell rattles are used in ceremonial dances. The shell represents longevity, the fur warmth, and the noise they make is to call the spirits. These artifacts are handcrafted by a Cherokee artist in the southwestern United States. Each piece is handcrafted and therefore unique in leather color and beading. Certificate of Authenticity is included.

Features:
Length: 13″-16″ long.
Large – 16″ + 6″ horsehair + 5″ fringe

Price: $84.95
Price includes shipping!

Medium – 16″ + 4″ horsehair + 4″ fringe

Price: $76.95
Price includes shipping!

Small – 13″ + 4″ horsehair + 4″ fringe

Price: $68.95
Price includes shipping!
The Native American Indian Artists use only genuine feathers, furs, bones, beads, leather, wood, stone, etc. in the making of each work of art. There is nothing artificial used unless it is required by law. No parts of animals such as bones, feathers, etc. are from any animals considered endangered. The feathers used are from Wild Turkeys.
The colors of feathers, fur, leather, beads and patterns can vary. All of our items are individually made by hand and are uniquely one of a kind. Therefore what you see on these pages is merely a representation of the product you will receive.