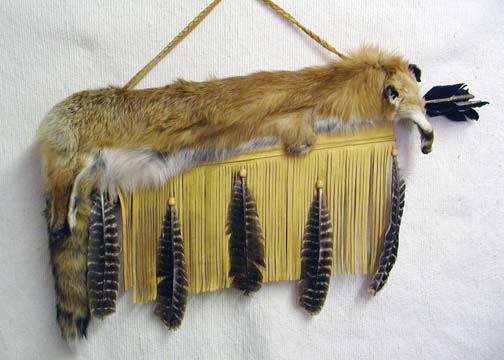 This beautiful buckskin and full red fox pelt quiver comes with two arrows and a braided strap. The quiver is trimmed with natural feathers and wooden beads. Each quiver will differ with leather color, fur and feathers. This artifact is handcrafted by Cherokee artist Wetfoot and comes with a Certificate of Authenticity. Please request light or dark colored leather. We will do our best to fill your request.

Features:
Dimensions: 27″ and 44″ long
Colors: Light or Dark Leather

Quiver – 27″ long



Price: $469.95


Price includes shipping!

*******

Quiver and Bow – 44″ long



Price: $544.95


Price includes shipping!
The Native American Indian Artists use only genuine feathers, furs, bones, beads, leather, wood, stone, etc. in the making of each work of art. There is nothing artificial used unless it is required by law. No parts of animals such as bones, feathers, etc. are from any animals considered endangered. The feathers used are from Wild Turkeys.
The colors of feathers, fur, leather, beads and patterns can vary. All of our items are individually made by hand and are uniquely one of a kind. Therefore what you see on these pages is merely a representation of the product you will receive.