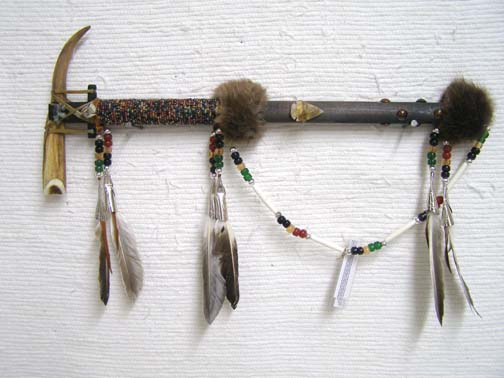 This Deer Horn Spirit Tomahawk was created by a Creek Indian who honors his ancestors with these beautiful implements. Each is handmade; the glass beading and finish are unique. Each Deer Horn Tomahawk has an arrowhead, a spirit fetish attached at the head of the tomahawk for power, and a bell for protection. Beads, feathers and decorations will vary. Certificate of Authenticity included.

Features:
Dimensions: 21″ long

Price: $84.95
Price includes shipping!
Genuine feathers, furs, bones, leather, beads, stone, wood, etc. are used in the fabrication of each piece. Nothing artificial unless required by law. No animal parts (bones, feathers, etc. are from endangered species). Feathers are from Wild Turkeys.
The colors of leather, fur, feathers, beads and the patterns will vary. All of our items are individually handcrafted and what you see here is merely a representation of the product you will receive.