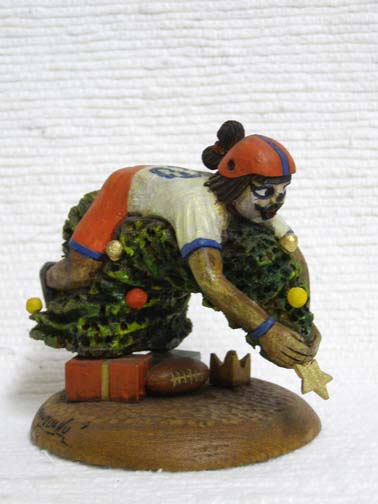 The Clown (Koshare) Summer Clown, is known by many other names, including Kaisale (Winter Clown), Tsuku (Second and Third Mesa), Koyaala, and Hano (First Mesa). The Clown has a complex ceremonial role, giving wisdom and advice as well as poking fun at unacceptable behavior. The Clown is said to be a glutton, always overdoing it whether he is making fun of the dancers, trying to get the children to behave during ceremonies, or commenting on Hopi behavior. They are generally amusing and do things that no Hopi or anyone else would want to be caught doing. They are often depicted with a watermelon.This Christmas "character" by Bo has decided to climb the Christmas Tree and is trying to get the star off the top. You can see he is a bit too heavy and the tree has bent over.
See Images below for additional views.

Dimensions: 4.5″ tall x 5″ long

Price: $324.95
Price includes shipping!
The Native American Indian Artists use only genuine feathers, furs, bones, beads, leather, wood, stone, etc. in the making of each work of art. There is nothing artificial used unless it is required by law. No parts of animals such as bones, feathers, etc. are from any animals considered endangered. The feathers used are from Wild Turkeys.
The colors of feathers, fur, leather, beads and patterns can vary. All of our items are individually made by hand and are uniquely one of a kind. Therefore what you see on these pages is merely a representation of the product you will receive.