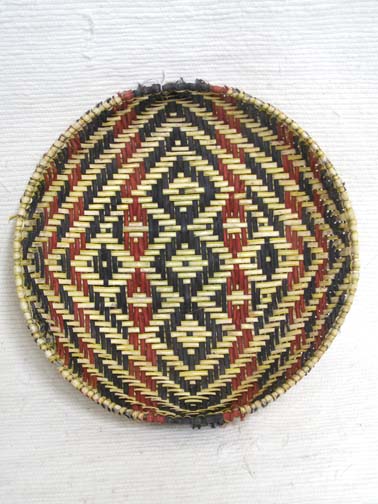 Women on all three mesas make plaited sifter baskets. These baskets are made by plaiting yucca fibers, either natural or dyes, to achieve many designs. Many of the Hopi wickers, coils, and sifters are used for social or ceremonial purposes.

Features: 12.5″ in diameter

Price: $139.95
Price includes shipping!
The Native American Indian Artists use only genuine feathers, furs, bones, beads, leather, wood, stone, etc. in the making of each work of art. There is nothing artificial used unless it is required by law. No parts of animals such as bones, feathers, etc. are from any animals considered endangered. The feathers used are from Wild Turkeys.
The colors of feathers, fur, leather, beads and patterns can vary. All of our items are individually made by hand and are uniquely one of a kind. Therefore what you see on these pages is merely a representation of the product you will receive.