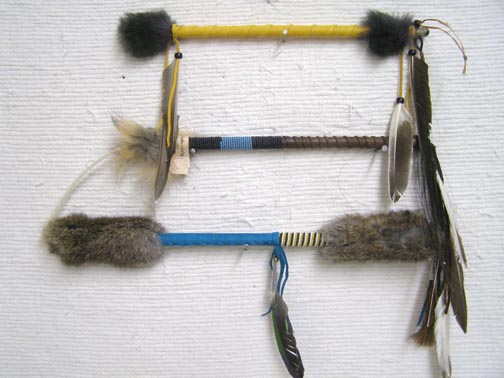 The talking stick is used as a means for just and impartial hearing. Primarily used in council circles, the stick would designate who had the right to speak (whoever holds the stick speaks and all others listen). When the stick is passed to the next person, that person must repeat the essence of what the previous speaker said before his turn to speak. The stick carries with it respect for free speech and the practice of true conversation. The words that are spoken should come from the heart and be soft and warm (rabbit fur) and courageous and wise (eagle feather). The beads are reminders that the Great Spirit hears the message of the heart as well as the spoken word. Certificate of Authenticity included.

Features:
Dimensions: Small – 12″ long
Medium – 13″ long + 8″ fringe
Large – 18″ long
Small Talking Stick



Price: $21.95


Price includes shipping!

Medium Talking Stick



Price: $27.95


Price includes shipping!

Large Talking Stick



Price: $38.95


Price includes shipping!
The Native American Indian Artists use only genuine feathers, furs, bones, beads, leather, wood, stone, etc. in the making of each work of art. There is nothing artificial used unless it is required by law. No parts of animals such as bones, feathers, etc. are from any animals considered endangered. The feathers used are from Wild Turkeys.
The colors of feathers, fur, leather, beads and patterns can vary. All of our items are individually made by hand and are uniquely one of a kind. Therefore what you see on these pages is merely a representation of the product you will receive.