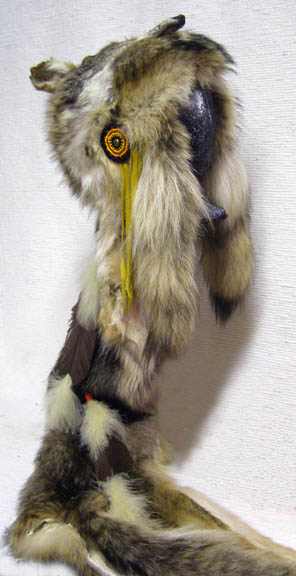 This Native American Navajo Made Medicine Man Headdress resembles actual ceremonial headdresses worn by Native Americans during the late 1800s to the early 1900s. The headdress has a genuine Coyote fur pelt. The head and neck are fashioned onto a heavy felt skull cap. The body of the pelt hans down over the shoulders and down the back. This headdress is fully decorated with honor feathers down the back. Pelt coloring and feathers will vary. Artist: Junior Ganadonegro

Price: $624.95
Price includes shipping!
The Native American Indian Artists use only genuine feathers, furs, bones, beads, leather, wood, stone, etc. in the making of each work of art. There is nothing artificial used unless it is required by law. No parts of animals such as bones, feathers, etc. are from any animals considered endangered. The feathers used are from Wild Turkeys.
The colors of feathers, fur, leather, beads and patterns can vary. All of our items are individually made by hand and are uniquely one of a kind. Therefore what you see on these pages is merely a representation of the product you will receive.