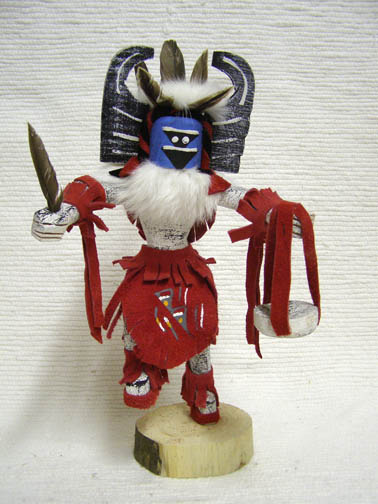 The Crow Mother is the mother of the Whipper Kachinas and is considered by many Hopi to be the mother of all Kachinas. She leads other Kachinas into the village during Powamu bearing in her arms a basket of corn kernels and bean sprouts to symbolically start the new season properly. The Crow Mother appears during the Bean Dance on all three mesas.

Features:
Dimensions: 6″, 10″ and 12″

6″ Doll
Price: $42.95


Price includes shipping!

10″ Doll
Price: $49.95


Price includes shipping!

12″ Doll
Price: $64.95


Price includes shipping!
The Native American Indian Artists use only genuine feathers, furs, bones, beads, leather, wood, stone, etc. in the making of each work of art. There is nothing artificial used unless it is required by law. No parts of animals such as bones, feathers, etc. are from any animals considered endangered. The feathers used are from Wild Turkeys.
The colors of feathers, fur, leather, beads and patterns can vary. All of our items are individually made by hand and are uniquely one of a kind. Therefore what you see on these pages is merely a representation of the product you will receive.