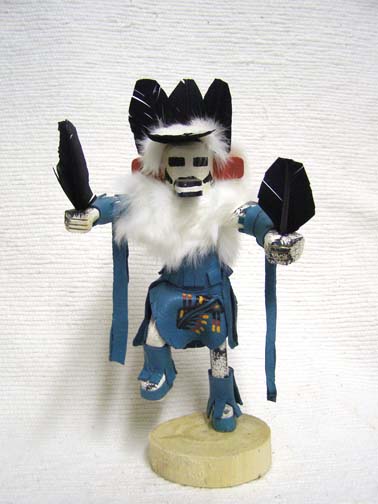 The horse is a fairly new Kachina. Its name is derived from the Spanish word for horse, caballo. The Hopi long preferred the burro as a beast of burden, so the horse was not adopted by them until quite late. The Horse Kachina is usually seen in Mixed Dances. He is said to represent the spirit of the horse and is identified by the black figure of a horse painted on each cheek of his white mask.

Features:
Dimensions: 6″, 10″ and 12″

6″ Doll
Price: $42.95


Price includes shipping!

10″ Doll
Price: $49.95


Price includes shipping!

12″ Doll
Price: $64.95


Price includes shipping!
The Native American Indian Artists use only genuine feathers, furs, bones, beads, leather, wood, stone, etc. in the making of each work of art. There is nothing artificial used unless it is required by law. No parts of animals such as bones, feathers, etc. are from any animals considered endangered. The feathers used are from Wild Turkeys.
The colors of feathers, fur, leather, beads and patterns can vary. All of our items are individually made by hand and are uniquely one of a kind. Therefore what you see on these pages is merely a representation of the product you will receive.