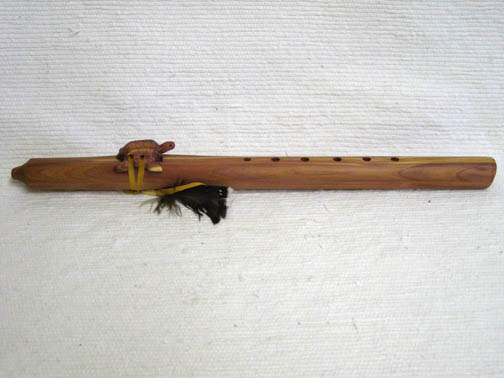 Native American flutes are instruments of music, ceremony, entertainment, courtship and love. Some Navajo medicine men say a girl will find irresistible the boy who plays the flute for her. Most traditional Navajo flutes were made of sunflower stalk; in present day the flues are evolving into a medium of artistic expression that uses a variety of materials. These cedar flutes are tuned to F#, E Minor or G Minor and are handmade by Jonah Thompson. These flutes are samples of Native American instruments and the diversity within Navajo culture.

Features:
Dimensions: 21″ and 22.5″ long
F# – 21″ Long
Price: $129.95
Price includes shipping!

E minor – 22.5″ Long
Price: $144.95
Price includes shipping!

G minor – 21″ Long
Price: $129.95
Price includes shipping!

FREE with Each Order.
"Navajo Flutes"
by Jonah Thompson




This little booklet was
written by Jonah and his
family.
It is a nice
introduction to the Native
American flute and has
some of Jonah's personal
history, some Navajo
history, a section on care
for your flute and includes
tips on learning to play
as well as several songs.
The Native Indian Artists use only genuine feathers, furs, bones, beads, leather, wood, stone, etc. in the making of each work of art. There is nothing artificial used unless it is required by law. No parts of animals such as bones, feathers, etc. are from any animals considered endangered. The feathers used are from Wild Turkeys.
The colors of feathers, fur, leather, beads and patterns can vary. All of our items are individually made by hand and are uniquely one of a kind. Therefore what you see on these pages is merely a representation of the product you will receive.