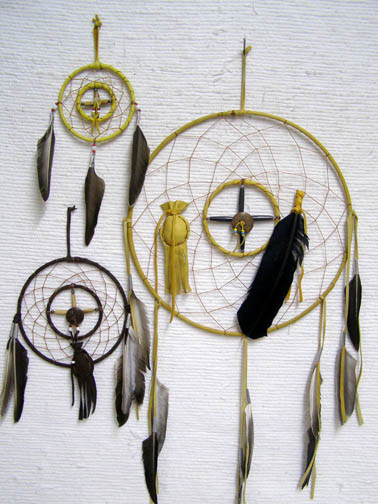 The outer circle of the Medicine Wheel represents the universe and your circle of life. The cross represents the Four Sacred Directions. The circle and the cross draw from the universe and bring into your circle of life good medicine and protection from misfortune and harm. Ojibwe legends speak to us of the dreamcatcher. It is believed that each carefully woven web will catch your dreams in the night air. The bad spirit dreams will become entangled in the web and disappear in the new day. The good spirit dreams will always find their way through the center opening and gently float down the sacred feather to bless the dreamer with peaceful dreams. This dreamcatcher captures the beauty of this sacred legend. Legend Card and Certificate of Authenticity included.
4″ Medicine Wheel
Dreamcatcher Combo

6″ Medicine Wheel
Dreamcatcher Combo

12″ Medicine Wheel
Dreamcatcher Combo

Price: $24.95


Price includes shipping!

Price: $31.95


Price includes shipping!

Price: $54.95


Price includes shipping!
The Native American Indian Artists use only genuine feathers, furs, bones, beads, leather, wood, stone, etc. in the making of each work of art. There is nothing artificial used unless it is required by law. No parts of animals such as bones, feathers, etc. are from any animals considered endangered. The feathers used are from Wild Turkeys.
The colors of feathers, fur, leather, beads and patterns can vary. All of our items are individually made by hand and are uniquely one of a kind. Therefore what you see on these pages is merely a representation of the product you will receive.