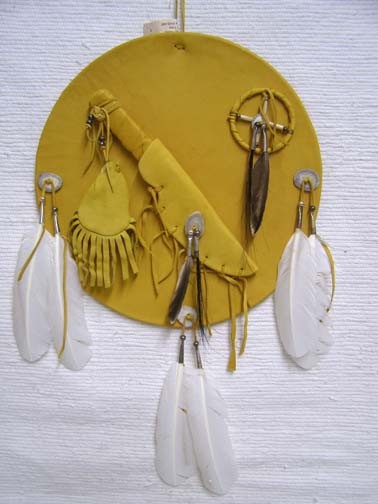 This Warrior Shield is wrapped in genuine buckskin and finished with a bone knife in sheath and medicine wheel. The medicine bag can be filled with white sage and sacred stones. Feathers and leather color will vary. Certificate of Authenticity included.
See Images below for additional views.

Features:
Dimensions: 14″ diameter

Price: $106.95
Price includes shipping!
Genuine feathers, furs, bones, leather, beads, stone, wood, etc. are used in the fabrication of each piece. Nothing artificial unless required by law. No animal parts (bones, feathers, etc. are from endangered species). Feathers are from Wild Turkeys.
The colors of leather, fur, feathers, beads and the patterns will vary. All of our items are individually handcrafted and what you see here is merely a representation of the product you will receive.