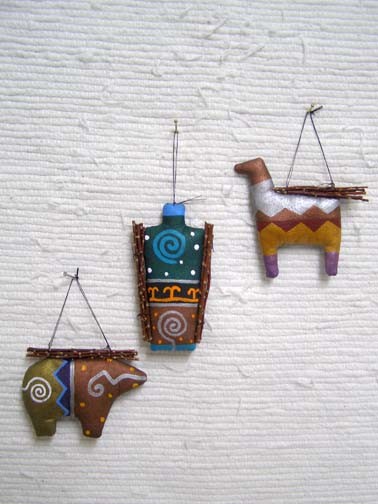 These wonderful soft-sculptures are created by Peter Ray James. This Navajo man handsews these small ornaments and stuffs them, then paints various designs on the pieces, finishes them by tying small branches to their sides or backs. Each one is unique in design and painted colors. All are handcrafted here in the southwestern United States by Peter. Each piece is signed.

The Bear are believed to be very powerful and capable of curing illness. They are also considered great warriors.

Yei bi chai.This Katsina is intended as a replica of the Navajo Talking God, the leader of the Yeibichai dancers who wear masks of the Yei and appear on the ninth and last night of the Navajo's Nightway healing ceremony. The Hopi stage a Navajo Katsina Dance on First and Third Mesas, led by this Katsina. The corn plant signifies life and a prayer for a rich harvest.

The horse or burro is a beast of burden and regarded as a member of the family for the Native people.

Dimensions: Bear: 3.5″ long Yei: 4″ tall Horse/Burro: 3.5″ long

Price: $32.95
Price includes shipping!
The Native American Indian Artists use only genuine feathers, furs, bones, beads, leather, wood, stone, etc. in the making of each work of art. There is nothing artificial used unless it is required by law. No parts of animals such as bones, feathers, etc. are from any animals considered endangered. The feathers used are from Wild Turkeys.
The colors of feathers, fur, leather, beads and patterns can vary. All of our items are individually made by hand and are uniquely one of a kind. Therefore what you see on these pages is merely a representation of the product you will receive.