Home
Bows
Ceremonial Masks
Cradleboards
Dance Sticks
Flutes and Drums
Hatchets
Knives
Lances/Arrows
Medicine Bags
Pipes
Prayer Fans
Quivers
Rattles
Shields
Trail Markers
Warbonnets
Miscellaneous
Christmas Ornaments
Baskets
Navajo Rugs
Navajo Kachinas
Horsehair Pottery

Pay by Credit or Debit Card with PayPal.
It's Safe & Easy.



Use the button like the one above.
Shipping Included!
All prices include shipping for the Continental USA. Locations outside Continental USA - Please email for shipping quote.
Grey Wolf Trading Post is proud to represent , the largest distributor of Genuine Native American Arts in Arizona. Over 5,000 sq feet of space houses nearly 50,000 artifacts, pottery, and jewelry skillfully crafted by Native Americans from various North American Indian Tribes. All orders are carefully and professionally packed and shipped direct from the supplier.

A Certificate of Authenticity is included with many items.

Genuine feathers, furs, bones, leather, beads, stone, wood, etc. are used in the fabrication of each piece. Nothing artificial unless required by law. No animal parts (bones, feathers, etc. are from endangered species). Feathers are from Wild Turkeys.

The colors of leather, fur, feathers, beads and the patterns will vary. All of our items are individually handcrafted and what you see here is merely a representation of the product you will receive.
ARTICLES
The Making of Horsehair Pottery

American Indian Art - The Perfect Gift

Navajo Kachina Dolls

Native American Tomahawks

Native American Pipes

Prayer Fans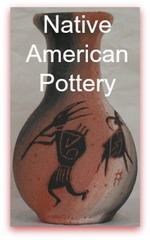 Horsehair Pottery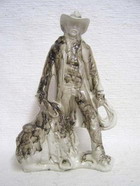 Bows


Cradleboards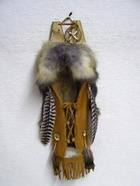 Dance Sticks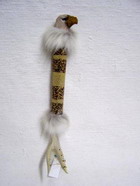 Flutes



Tomahawks



Arrows


Medicine Bags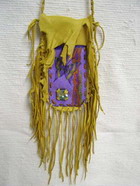 Peace Pipes



Prayer Fans



Quivers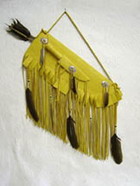 Rattles



Shields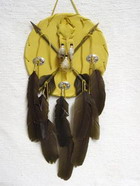 Warbonnets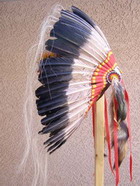 Navajo Kachinas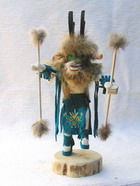 Native American Arts - Trail Markers and Dance Sticks
We carry a wonderful selection of Native American Dance Sticks and Trail Markers. All are hand-crafted by Native American Navajo, Cherokee, Creek and Tigua Indians. Any of these items would be a great addition to your collection of Native American Art. Please read our informative article on The Native American Dance Stick.

Click on Image or Numbers below Image and Expand Window for Larger View.
Native American Creek Eagle Totem Rainstick

Your Price: $89.95

Dance sticks are used by Native American braves and warriors as they dance around a campfire. The glass beads represent the colors of the clan or the family. The feathers and the Eagle Totem represent the connection to the great spirit and carry messages and prayers to the gods. The antler is for swiftness and the webbing between the antlers is there to catch the good spirits. This wonderful Eagle Totem Rainstick also carries the message to the gods for rain, always a prayer on the tips of the tongues of the Native People in the arid southwestern United States. Beads and leather color and the size of the antler and dreamcatcher will vary. Certificate of authenticity included. 20"-24" long.
Click on numbered boxes below image for additional views.
Artist: La Na Ayo - Creek

CT41

Cherokee Made Comanche Style Bear Trail Marker

Your Price: $234.95

The trail marker is used by a family or clan to mark a trail. It indicates the direction to a ceremony, meeting, or home of a clan. The colors on the trail marker are the clan colors. Bear skulls represent wisdom. The feathers represent a connection to the Great Spirit and carry messages and prayers to the gods. The spearhead at the bottom of the trail marker is used for securing the marker into the ground. A trail marker without the spearhead indicates a clan living in a mountainous region, and then the marker would be hung from a tree. 40" in length. Certificate of Authenticity Included.
Click on numbered boxes below image for additional views.
Artist: Wetfoot - Cherokee

DL54A

Cherokee Made Animal Skull Trail Marker

Your Price: $134.95

The trail marker is used by a clan or family to mark a trail. It indicates the direction to a ceremony, meeting or the home of a clan. The colors on the trail marker are the clan colors. Deer antlers represent family and gentleness. A medicine wheel is placed between the horns to protect the family from harm and misfortune. Coyote skulls represent wisdom and trickery, the coyote is known for the clever tricks he plays on others. Feathers represent a connection with prayer and protection. They hold and carry all your dreams and prayers and protect you and your family. A spearhead at the bottom of a trail marker is used for securing the marker into the ground. A trail marker without the spearhead denotes a clan living in a mountainous region; in this case the marker is hung from a tree or placed by a boulder. Skulls, trim, leather and beads will vary. 36" - 40" in length. Certificate of Authenticity included.
Artist: Wetfoot - Cherokee

DL54-2

Single Animal Skull Trail Marker
Double Animal Skull Trail Marker

Cherokee Made Spirit Dance Stick

Your Price: $94.95

Dance sticks are used by Native American braves and warriors as they dance around a campfire. The glass beads represent the colors of the clan or the family. This Spirit Dance Stick has a deer leg at one end for swiftness and the head of a Silver-Tipped Fox at the other for warmth during the hunt. The antler tip is for good medicine. Approximately 32" in length. Certificate of authenticity included. 32" long.
Click on numbers below image for additional views.
Artist: Ondie - Cherokee

DL02




Natural Sinew

Your Price: $27.95

Natural sinew is what the Native Americans use to tie their arrowheads, make dreamcatchers, etc. There are so many purposes for this flat, waxed fiber that we wanted to offer it to our customers. These 1/2-pound rolls of natural sinew are the perfect size for crafting, repairs and hanging your smaller Native American objects.


SINEW